Call for Edinburgh-Perth railway line to reopen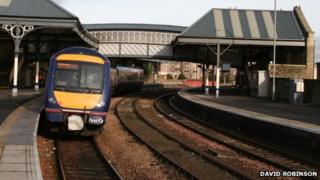 Transport campaigners have called for the reopening of a direct rail link between Edinburgh and Perth.
Transform Scotland said the move was needed to keep the railway competitive with road travel through Perth and onwards to Inverness.
They claimed the restoration of the Edinburgh-Perth railway could make the train journey 35 minutes faster.
The Scottish government said the proposal had already been rejected as its high cost outweighed any benefits.
However, Paul Tetlaw of the campaign group Transform Scotland, told the BBC's Good Morning Scotland programme it would cost a third of the current £3bn scheme to make the A9 a dual carriageway.
'Substantial savings'
"I don't think there is any shortage of money," he said.
"It would create substantial savings on journey times, and the opportunity to transfer more people to rail.
"None of the current schemes go far enough."
The original rail route from Edinburgh to Perth was closed in the 1970s to allow for construction of the M90 motorway.
Trains were left to use a less direct route through Fife.
The restored route being proposed by Transform Scotland would go through Kinross.
In a paper submitted to the Scottish Parliament ahead of a planned debate on "Transforming Scotland's Railways", they pointed out that the rail journey from Edinburgh to Perth was currently slower than it was in 1913.
Faster journeys
The paper stated: "While there has been some progress in improving Scotland's railways, to truly transform Scotland's railways will require the Scottish government to review its current plans for upgrades to rail routes north of the central belt in order that railways between Scotland's cities can at least compete with the roads."
Plans to upgrade the A9 between Perth and Inverness would, they said, cut journey times for drivers.
A Scottish government spokesman said the proposal was rejected during the Strategic Transport Projects Review.
He said the government had prioritised improving connections, via the Highland Main Line project, which would mean fastest journey times of 2 hours 45 minutes between Inverness and Edinburgh/Glasgow, and average journey times of 3 hours by 2025.
He added: "We are working on faster journey times through the Aberdeen to Central Belt Rail Enhancements project currently being developed by Network Rail."