Lady the osprey 'hatches 50th chick' at Loch of the Lowes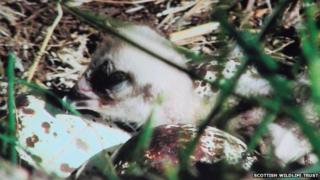 Wildlife experts say a veteran Scottish osprey has hatched what could be her 50th chick.
Lady has been migrating from her winter home in West Africa to breed at a nature reserve in Scotland for the past 23 years.
The Scottish Wildlife Trust spotted the latest chick at Loch of the Lowes near Dunkeld at the weekend.
The baby bird is said to look strong and healthy and the hatching was described as "truly remarkable".
Rangers said one of Lady's eggs was spotted cracking on Saturday morning and the latest chick arrived at about 10:00.
The male brought in a fish at about 11:30 and the chick had its first meal of tiny amounts of shredded fish that afternoon.
Ranger Emma Rawling, from the Scottish Wildlife Trust, said: "It's the birds who deserve the congratulations - especially our remarkable veteran female, who has done it again in her 23rd breeding year here on the reserve.
"Every osprey chick hatched in the UK is still precious as the species recovers from local extinction, and we hope this chick will go on to aid the repopulation of the osprey's old home in ranges across the UK.
"If this chick survives to fledging, it will be this female's 50th offspring to make it to adulthood - a truly remarkable achievement."
The Scottish Wildlife Trust hopes that in time the chick may be joined by another sibling.