Bannockburn battlefield 1930s time capsule reburied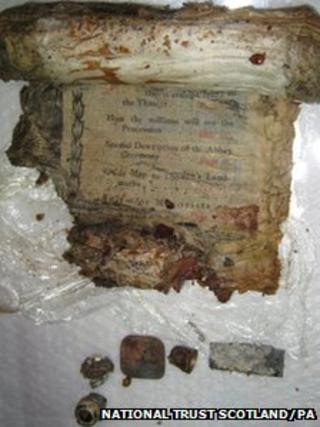 A 1930s time capsule found during the restoration of a flagpole at the Bannockburn memorial in Stirlingshire is to be reburied along with new items.
Workers uncovered a newspaper, coins and a medal under the 1870s flagstaff - put there during repair works in 1937.
New contributions were included from the current contractors and academics involved in the 700th anniversary of the Battle of Bannockburn next year.
The flagstaff was being repaired in time for the 2014 celebrations.
The capsule will be put at the spot where Robert the Bruce allegedly put his standard before night before the battle.
It will be buried by David McAllister, project director of the Battle of Bannockburn Project, Alastair Smith, from the National Trust for Scotland, and Rory MacLeod, the grandson of Alexander Aikman OBE, the chairman of the Grangemouth Dockyard Company who made the decision to bury the 1930s time capsule.