Stirling Armed Forces Day events under way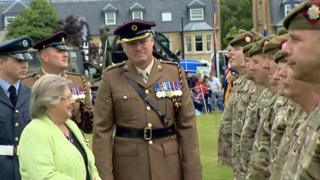 Scotland's week-long Armed Forces celebrations have begun in Stirling.
Military personnel, cadets and veterans marched from the city centre shortly after noon.
It was followed by the Stirling Military Show in King's Park, featuring a Royal Marines demonstration and the West of Scotland military wives choir.
A flypast by a World War II Spitfire was cancelled due to high winds. Other Armed Forces Day events will be held across Scotland next week.
Stirling Provost Mike Robbins said: "The colour, fun, music and spectacle of Armed Forces Day is one of the highlights of the Stirling diary.
"Our event is now recognised by the Army as the principal one of its kind in Scotland, which is a proud achievement.
"I'm sure local people will have had a terrific day out, and welcome the chance to show appreciation for everything our Armed Forces do for our country and for the Stirling area."
Armed Forces Day is a Ministry of Defence initiative to honour and celebrate the work of the Armed Forces and those who support them.
It aims to raise awareness about the contributions of the Royal Navy, Army, and Royal Air Force, reservists, veterans, cadets and the wider armed forces community, including service families.
Lt Col Paul Holder, commanding officer of the Scottish Transport Regiment (Volunteers), which organised the event, said: "The people of the city and district of Stirling are great supporters of the Armed Forces, and it will be great to see so many of them at the show, which starts a week of Armed Forces events in Scotland."
The main Armed Forces Day parades in Scotland will be held in Edinburgh, Glasgow, Aberdeen, and Dundee next Saturday.