Dundee church in middle of tower block demolition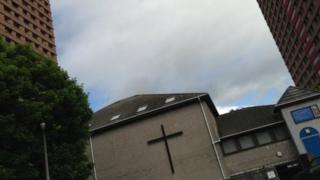 A Dundee church sandwiched between two multi-storey tower blocks is confident it will survive unscathed when the flats are demolished.
St Martin's Episcopal Church, in the Hilltown area of the city, will close its doors on Sunday while the work takes place.
The church is expected to reopen by the middle of next week.
An exclusion zone will be set up in the area, with almost 20 streets closed on the day of the demolition.
The Bishop of Brechin, Reverend Nigel Peyton, said: "We've got lot of confidence in the contractors and we've spoken to our insurers.
"We are making alternative arrangements, because we won't be able to use the building.
"I am absolutely confident when the dust settles the building will still be there."
He added: "We want to be part of the regeneration of the area.
"The planners and council have all sorts of ideas, and we very much want to be there, serving that part of the city."
A number of roads in the area will be closed during the demolition, and vehicles in the restricted areas will be removed.
Police Scotland have recommended that residents close all doors, windows and vents, and do not hang out any washing during the operation.
They are also asking for pets to be kept in doors, ensuring that they cannot escape through cat flaps or open windows.
In 2011, four other tower blocks were demolished in the Hilltown area on Alexander Street as part of regeneration projects.