Private hospital Monroe House given a 'weak' management rating again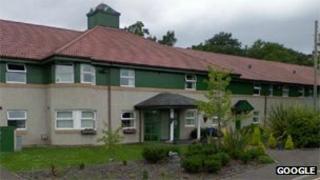 A private care hospital in Dundee remains the only one in Scotland to be given a "weak" management rating by a healthcare watchdog.
Monroe House is a psychiatric hospital for adults with learning disabilities and challenging behaviour.
The rating was given by Healthcare Improvement Scotland for the second time, following an inspection in May.
The facility is owned by Castlebeck Care, previously part of a BBC investigation over abuse and neglect.
The findings were revealed after a third review to look at attempts to rectify previous criticisms from earlier in the year.
While the level of care was praised, along with staff, the quality of management and leadership was rated weak.
Progress made
The previous inspections in January and February also showed weak management and leadership.
While the latest review showed progress had been made, the hospital had still not met requirements given to it.
According to the report, it has been told to improve its medication records and prescription recording systems.
Susan Brimelow, chief inspector of Healthcare Improvement Scotland, said: "While the requirements from the previous inspections have not been met, we were able to see that progress has been made to meet these".
She added: "We will continue to carry out rigorous inspection to monitor Monroe House's progress in addressing these issues and have made it clear to the provider that the requirements must be addressed as a matter of priority."
Abuse and neglect
Monroe House is a 26-bed psychiatric hospital providing healthcare services for adults with learning disabilities, associated mental health problems and challenging behaviour.
Castlebeck Care was at the centre of a BBC investigation into abuse and neglect at one of its homes in Bristol.
Eleven care workers admitted a total of 38 charges last year after they were secretly filmed abusing patients at Winterbourne View.
Administrators Grant Thornton were brought in to manage administration for the company.
Earlier in the year, the firm confirmed that all residents across 20 UK sites were still receiving care from Castlebeck while a buyer was found.