Car park owners 'snub' Dundee Council plans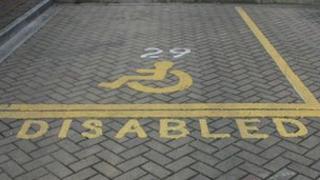 Dundee car park owners have refused an offer from Dundee city council, to enforce disabled parking regulations.
A council report confirmed more than 800 letters were sent to owners in February of this year.
However only one request was received agreeing to enforce the plans.
The proposals were part of a revamp of disabled parking across the city due to some spaces not meeting national standards.
Dundee City Council removed 386 disabled on-street parking bays as they were no longer required and added 57 new spaces in the last year.
The report claimed many of Dundee's on-street bays do not meet the current standards set out by the Traffic Signs and General Direction 2002.
The council is keeping note of spaces in need of work and making moves to rectify them.
They plan to repaint bays over the next two years which do not meet the standards.
Under the Disabled Persons' Parking Places (Scotland) Act 2009, local authorities must promote the proper use of parking places in their areas that are designated or provided for use by disabled persons' vehicles.
Transport Scotland has granted special authorisation to allow the Council to continue using spaces which do not meet the requirements until they are brought up to standard.