DC Thomson denies Digital Dandy speculation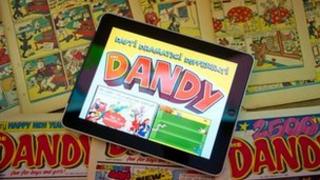 The publisher of the Dandy comic has denied speculation that its new digital-only format is to be scrapped.
Wilbur Dawbarn, an artist on the comic, tweeted on Wednesday that editors told him the digital project had now ended.
DC Thomson confirmed it was suspending its Dandy app - but said the title remained an "important part of the company's future."
The paper version of the comic was printed for the last time in December after 75 years.
The circulation of the Dandy, which features characters such as Desperate Dan and Korky the Cat, had plummeted to about 8,000 copies a week in recent years, from a peak of two million in the 1950s.
This resulted in the cancelation of the physical comic, with DC Thomson instead launching the title online, and as a smartphone and tablet app.
But technical difficulties forced a reboot shortly into its launch.
Following Mr Dawbarn's tweet, several comic blogs speculated that DC Thomson's digital comic experiment was to end less than a year after it had begun.
But Mr Dawbarn later clarified that rumours of the comic's death may have been exaggerated and he was working on the 2015 annual.
A DC Thomson spokeswoman said: "The Digital Dandy team has worked hard to produce an interactive and engaging app.
"While the digital comic has delivered its promised mixture of daft, dramatic and different stories, the technology and format have let us down.
"For this reason, we're suspending the existing app and discussions and planning are already underway to re-examine the Dandy's digital offerings.
"It is still too early to announce what form this next stage will take, but we would like to reassure readers that the Dandy remains a very important part of the company's plans for the future."
Publicity stunt
Throughout its 75 years, the Dandy's artists and writers had always strived to keep the comic's characters and plotlines relevant.
During World War II, Desperate Dan used his peashooter to bring down German aircraft and sink U-boats.
A strip called Addie and Hermy - the Nasty Nazis was a satire on Hitler and Goering.
And there was an outcry from fans in 1997 when Desperate Dan was supposedly to be retired after heading off into the sunset with the Spice Girls - although DC Thomson later admitted the storyline had been a publicity stunt to generate attention for its 60th anniversary.
Dan caused more controversy when he gave up eating cow pies during the BSE outbreak, and a revamp in 2010 saw some traditional characters replaced by celebrities including Simon Cowell and Cheryl Cole.
A bronze statue of long-standing cover star Desperate Dan stands in Dundee city centre alongside Minnie the Minx, from The Dandy's sister title The Beano.