T in the Park festival tops 2.5 million tickets in 20 years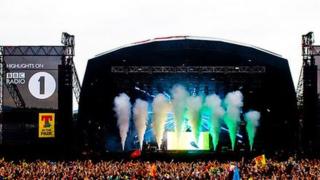 Scotland's T in the Park festival has sold more than 2.5 million tickets in the past 20 years, event organisers have revealed.
The three day music extravaganza starts next Friday at Balado in Perth and Kinross, two decades after the first festival in Strathclyde Country Park.
Headline acts for 2013 include Mumford & Sons, Rihanna and the Killers.
So far, it has not sold out this year but festival bosses were still hopeful all the tickets would go.
'Best atmosphere'
T in the Park director Geoff Ellis told BBC Scotland the event had gone from 17,000 people a day in its first year to a capacity of 85,000.
Mr Ellis said the move to Balado had opened up the festival to the whole of Scotland and beyond.
"We do attract a lot of people from outside of Scotland," he said. "About 20% of our crowd comes from outside Scotland and about 2% from outside the UK but the real passionate element is the Scottish crowd.
"Scots are passionate about everything, music, sport, politics - they're not shy about saying how they feel - and I think at T in the Park, put them in front of a load of great bands those bands definitely feed off the crowd and play better sets.
"People think it's a cliché to say Scotland's the best place to play live music but that audience reaction, I've seen it round the world from China to the States - you go down to an English festival and people say 'it's not like T in the Park' and that's true.
"Speak to someone like Noel Gallagher he'll tell you T in the Park's got he best atmosphere out of every festival they've played."
Mr Ellis said he was confident the event would still sell out, especially as the weather forecast was looking more sun cream than wellies.
"This time last year we still had tickets on sale, I'm sure we'll sell out, we're almost there," he added. "It's a sign of the times, it was the same last year and there's a lot more competition out there."