Drug mule pensioner left cocaine trail at Edinburgh Airport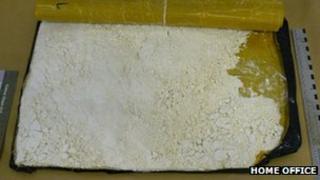 A 65-year-old woman left a trail of white powder in her wake as she carried a suitcase through Edinburgh Airport.
When the case was searched more than 4kg of high purity cocaine with a street value of more than £1m was found.
Now pensioner Ann Southern, who lives in The Gambia, is in custody after admitting a drug smuggling charge.
She will be sentenced next month at the High Court in Edinburgh after background reports are prepared.
The court heard that Southern had links to another woman Dawn Sylla, 55, who also lived in The Gambia.
Earlier this week Sylla was jailed for 40 months at the same court for trying to smuggle cocaine valued at £1m through the airport on 4 March this year.
White powder
Southern followed her through the airport the next day and was arrested in bizarre circumstances.
Officers of the UK Border Agency were on full alert as she carried her case through the "nothing to declare" channel.
Advocate depute Douglas Fairley QC, prosecuting, told how a spike was stuck into the bottom of the suitcase, causing white powder to run out.
When searched her suitcase was found to contain cocaine which was more than 70% pure - enabling it to be "cut" or diluted many times before being sold on the streets.
Southern, who had travelled to Edinburgh from Burkina Faso and Brussels, said: "I'm in shock."
Experts said the cocaine was worth £1.2m on the street.
Confirming the links between Southern and Sylla, Mr Fairley said: "Both women appear to have a number of contacts in common, including a male who appears to have intended to uplift their suitcases."
When questioned at St Leonards Police Station, in Edinburgh, Southern confirmed she lived in Essan, in The Gambia, although she is a UK national.
She then read a prepared statement claiming: "I have no knowledge of anything illegal or improper in my luggage.
"My bag was given to me by my boyfriend a few days ago. I had no reason to suspect it had been tampered with."
Mr Fairley said Southern refused to name her boyfriend, or comment on the arrest of Sylla the previous day.
After she admitted a drug smuggling charge, judge Lord Burns called for reports and remanded her in custody to await sentence next month.