Graham Macfarlane jailed for filming 13-year-old girl changing in Dundee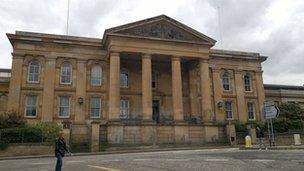 A man who set up a hidden camera to film a 13-year-old girl changing has been jailed for more than three years for a number of offences.
Graham Macfarlane, from Dundee, was also found in possession of more than 4,600 child abuse pictures and 759 videos.
Police made the discovery through an online conversation the 57-year-old was having with someone in Canada.
They then raided his house to find the illegal content.
MacFarlane told police he had become obsessed with indecent images of children after being introduced to them at a sauna in Edinburgh.
He said he used pre-paid mobile broadband dongles while sitting in his van, to hide evidence of the downloads.
Officers discovered a video showing a young girl changing - which Macfarlane admitted he had made by hiding his mobile phone in his trouser pockets, before hanging them up with the phone poking out and the video camera switched on.
The court heard how the former building maintenance firm manager complained about the poor quality of the video he had filmed before his arrest.
They also heard that MacFarlane had taken part in online conversations with other paedophiles and shared images while his young granddaughter was present.
Fiscal depute Isma Mukhtar told Dundee Sheriff Court that 67 of the still images and 25 of the videos found on his computers were at the top end of the scale used to measure their severity.
Macfarlane admitted three charges on indictment that between 30 June 2011 and 30 June 2012 he downloaded and distributed indecent images of children and that on 13 January 2012 he recorded without consent a girl under the age of 16 removing their clothing with the intent of him or others viewing the image.
Rosemary Scott, defending, said: "He hadn't thought through the seriousness of this, but now he's fully aware of it".
Sheriff George Way jailed Macfarlane for three years and four months, imposed a two-year extended sentence upon his release and placed him on the sex offender's register indefinitely.
He said: "I regret to note that you were disappointed when the video you made was of poor quality.
"You became ensnared in child pornography while in establishments connected to the live sex trade.
"You acquired a separate netbook and mobile dongles while in your van to conceal yourself from detection."
He added: "The content of the images was totally disgusting and I won't even attempt to describe it in detail, but it showed extremely young girls in scenes of rape and bondage.
"You went to great planning to avoid detection, and only a custodial sentence will mark the court's efforts to denounce this vile trade."
Related Internet Links
The BBC is not responsible for the content of external sites.