Newest lifeboat for new Montrose RNLI station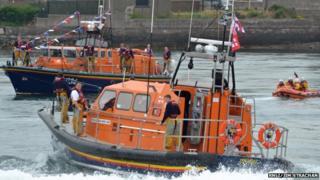 The RNLI has revealed that Montrose is to be the first Scottish station to have the new Shannon class lifeboat.
The first vessel of the new design is currently undergoing sea trials.
It features twin water jets instead of conventional propellers, allowing it to operate in shallow water, and is highly manoeuvrable.
The first Shannon lifeboat visited Montrose on Saturday for the official opening of the town's new RNLI station.
Montrose will receive its own Shannon class boat in 2015, replacing its current Tyne boat.
The new lifeboat station is in Wharf Street, closer to the town centre than the previous base in the operational area of the port at Montrose.
The new facility cost more than £1m.
Paul Jennings, the RNLI's Divisional Operations Manager, said: "The ceremony marks the completion of nearly two years of building work.
"This purpose-built station provides easy access to the harbour, crew parking, a changing room, space for training, a retail outlet, and a boathouse for both the inshore D class and all-weather lifeboat.
"These facilities combine to provide a quicker rescue response time, alongside a greater public presence for the RNLI."
Mr Jennings said the volunteer crews would benefit from the very best facilities and equipment.
He added: "Over the next few years, Montrose will be the first Scottish station to receive the new Shannon class all-weather lifeboat.
"Designed by the RNLI's own naval architects, this is the first lifeboat to be powered by twin water jets instead of propellers.
"This makes her faster and more manoeuvrable when reaching casualties."