Sex attacker Ryan Liddell's sentence appeal fails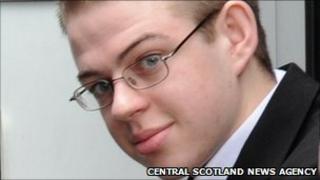 A survivor of the Dunblane massacre who carried out a sex attack on a pensioner has failed to overturn his sentence.
Ryan Liddell, 22, was made the subject of an Order for Lifelong Restriction (OLR) after his conviction.
He had attacked a 76-year-old woman in her home with intent to rape her.
Judges at the Court of Criminal Appeal in Edinburgh ruled that the sentence should stand, but cut the minimum term Liddell must serve before seeking parole from six years to five.
The senior judge, Lady Paton, stressed that did not mean Liddell would be released after five years.
She said: "It will be for the Parole Board to decide whether or not he can be safely released, bearing in mind the need for protection of the public."
As a five-year-old, Liddell was shot and wounded in the attack on Dunblane Primary School in 1996, in which 16 children died.
The attack on the woman was carried out in June 2010, when Liddell was 19.
Behavioural disorders
Lawyers acting for Liddell appealed against both the imposition of an OLR and the length of the minimum term he must serve, known as punishment part, before he becomes eligible to seek release on parole.
The appeal judges heard that Liddell had shown an odd personality and behavioural disorders from a very early age, but did not believe that being a victim of the Dunblane massacre had any long-term impact on his psychological development.
Gordon Jackson QC said that because of features such as the lack of a pattern of similar offending and protective factors it was not appropriate to take the extreme position of imposing an order that would be in place for the rest of his client's life.
But, rejecting the appeal, Lady Paton said: "We wholly agree with the trial judge's assessment of the gravity of the crime."
"It was in our view an extremely serious offence, involving as it did the infiltration at night of the home of an elderly lady living on her own, the pretence of being a carer who had come to give her a shower, and then a brutal and persistent attack such that the victim ended up naked, terrified, highly distressed, injured, shouting and screaming 'No' and desperately trying to fight off the intruder."
She added that the facts the judge was entitled to take account of "amply demonstrate the appellant's propensity for bizarre, irrational, insensitive, destructive, hurtful and harmful behaviour to members of the public at large".