Convicted killer Alan Stirling avoids new jail term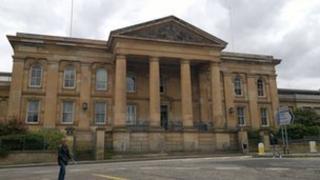 A convicted killer has avoided a new jail term after he admitted an assault on his sister.
Alan Stirling threw a vacuum cleaner at her after an argument about babysitting.
The 36-year-old was jailed for four and a half years in 2007 for killing a friend in a row about a broken games console.
Stirling was placed on a community payback order with 120 hours unpaid work.
Dundee Sheriff Court heard the accused smashed his sister's living room window with a bicycle, before hurling a vacuum cleaner at her and chasing her with a metal drain cover.
Fiscal depute Ross Cargill said his sister, Angela Stirling, then ran from the house, followed by the accused.
Stirling then removed a cast iron drain cover from a manhole and approached her with it, shouting.
'Out of control'
Stirling, of Dundee, pleaded guilty to assaulting Ms Stirling at an address in Dundee on 30 June this year.
John Boyle, defending, said the incident had been a family argument that "escalated out of control".
Sheriff Elizabeth Munro placed Stirling on a community payback order with 120 hours unpaid work in the community.
She said: "I'll give you a chance but I have my doubts about it.
"It's perfectly clear to me that you have problems with honesty but I will give you a chance as you have stayed out of trouble for a while."
Stirling was jailed for four and a half years in 2007 after he admitted the culpable homicide of friend Paul McDonald at a flat in Dundee on 10 August, 2006.
He had originally been charged with murder, but prosecutors accepted his guilty plea to the lesser charge.
Medical attention
The High Court in Edinburgh heard Stirling repeatedly punched and kicked Paul McDonald on the head and body, after a row over a games console.
It appeared that Mr McDonald either stumbled into or knocked over the TV.
Defence counsel Mark Stewart QC said there had been some fear the computer would be damaged and an argument broke out.
During a struggle, Stirling was bitten and lost his temper and attacked Mr McDonald.
He then went to help Mr McDonald and found him in the lobby where he thought he was still sleeping off the effects of drink.
He later carried his victim back to his upstairs flat in the same block and checked up on him.
Mr Stewart added: "It is extremely unfortunate that no one sought the medical attention which could have saved this man's life."