Dare ProtoPlay and Dundee Science Festival win cash injections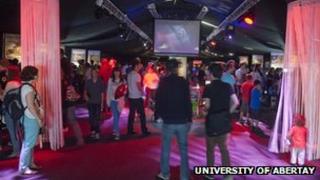 Two major Dundee festivals have secured up to £25,000 of extra investment.
The Dare ProtoPlay video games festival and Dundee Science festival received the cash injections from EventScotland.
It is hoped the extra funds will enhance marketing and promotional activity to bring more visitors to the city.
The money was part of the body's latest round of National Programme funding.
Dare ProtoPlay is seen as an important fixture on Dundee's annual events calendar and attracts over 40% of its visitors from outside the local area.
EventScotland funds will help the University of Abertay, which organises the event, to deliver an outreach programme to engage young people from the local area, as well as securing a marquee to increase the capacity of the festival.
With an attendance of more than 14,000, Dundee Science Festival is a city-wide celebration which positions science as an aspect of culture alongside the arts and heritage.
The additional funds will help to support the promotion and programming of the festival, with aspirations to widen the audience reach of the event.