It's child's play at Dare ProtoPlay gaming festival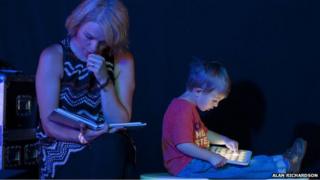 When it comes to festivals in August the spotlight shines on Edinburgh. But 60 miles north of Scotland's capital, crowds flocked to Dundee to enjoy a lesser-known festival focused on computer gaming.
Running over four days, Abertay University's Dare ProtoPlay and Dare Indie Fest 2013 allowed the public to test out the creations of its program-makers and digital artists.
Having prised four boys - aged 11 to 13 - from their Xboxes I drove almost 100 miles to Dundee to see how child-friendly (and child-proof) these prototype games were.
The free festival took place at the city's Caird Hall and featured the produce of 15 teams tasked with designing, building and testing a new computer game in just nine weeks.
My party of gaming enthusiasts tried out Poseidon - a 3D game requiring the player to take control of a submarine in the Mariana Trench - the deepest part of the world's oceans. The task is to locate and make safe a volatile nuclear reactor.
Without any tutoring, the boys effortlessly took to the controls and in five minutes of play, saved the world.
Poseidon, promoted at the festival as "being made in Scotland", is the collaborative effort of nine students doing their MProf in games development at the University of Abertay.
Four of the group - Dan Allan, 22, Callum Murray, 31, Miguel Garde, 24, Daniel Bratesberg, 24 - spoke enthusiastically about the game, their studies and their hopes for the future.
They are weeks away from completing their course and are keen to start working in the gaming industry.
Dan said: "It can be hard to make money in this industry. It would be great to get a job in gaming, but I also want to make money and basically, after all my studies, I want to have fun.
"I'm prepared to move to get a job, it would be nice to stay in Scotland but the reality is we will find ourselves moving away."
Daniel, from Norway, wants to return to Scandinavia for work.
He said: "In my home country there are probably fewer opportunities to work in the sector, but I have my eye on Sweden where gaming as an industry is growing."
Fellow student, Miguel, came from Spain to do the post-graduate course and he too would like to return home.
The oldest member of the team, Callum, is more realistic about what lies ahead after his studies. Before embarking on his Abertay course, he worked in the oil industry as a 3D graphic designer. But he ditched the job to fulfil his "long standing passion" to be part of the games industry.
He said that while his ideal was to work on games he knows that may not be possible. Callum added that he was comforted by the fact his artistic and graphics skills were transferable.
The students were evangelical about their work, generous with their time, and chilled about young grubby hands using their games equipment.
My team of four also tried out the prototype UnderCurrent, an underwater exploration game designed for use with the Oculus Rift virtual reality hardware.
This is a product driven by handheld controllers and visualised through a wrap-around headset.
Richard Tongeman is one of the team behind the game and the very expensive headset was his.
There was a long wait for a five-minute go on the Oculus Rift product which has been devised by students from the University of Teeside in Middlesbrough.
With a container of wet wipes on hand, Richard made sure each user cleaned the lens of the headset, and their own eyes, before embarking on their underwater venture.
The game received the thumbs-up from my group, but they were not convinced the headsets were a thing-of-the-future.
However, I'm sure they will change their minds once a clever marketing campaign tells them it is the next must-have Christmas gift.
Richard told me that when the technology used was high-end military grade it was prohibitively expensive. But the cheaper mobile approach is now available which will see the headsets retail at about £200.
All of the games' stands at the festival were staffed largely by men. Scotland's Culture Minister Fiona Hyslop said last week she would like the distinct absence of women in the industry to change.
Simple ideas
Gordon Mckendrick, 21, is one of 45 undergraduates on his Abertay University course.
On the lack of women students, he said: "It is pretty shocking really. Out of a course of 45, there is just one female student programmer. You tend to find that the girls join the artistic side of the industry, which I suppose conforms to a stereotype."
Despite its gender imbalance, Dundee is very proud of its computer games name.
Prof Nigel Seaton, principal of Abertay University, writing in the programme notes for the festival, said: "Abertay University identifies at a very early stage how computer games would become a vitally important part of the UK's creative and digital industries and that talented and creative people are essential if the industry is to grow and proper."
Innovation and creativity was very much alive at the festival, so it surprised me when my team of gamers concluded that there favourite play was on Mythic Beasts, an uncomplicated two-person game.
It consisted of a pair of pawn-sized characters who had to avoid obstacles put in their way. Its mission was one even I could understand, it was absent of monsters and blood and the graphics were clear and uncluttered.
So, it must be true - the simplest ideas are the best.