Gleneagles Ryder Cup fans get ticket news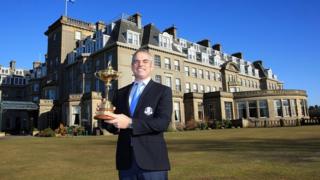 Golf fans in 75 countries around the world are finding out if they have secured a ticket for next year's Ryder Cup at Gleneagles in Perthshire.
Organisers said final stage applications for tickets were up 38% compared with the 2010 event at Celtic Manor in Wales.
They said about 37% of the tickets were going to people based in Scotland.
However, the rest of the UK and Ireland, USA, Germany, Canada and The Netherlands also had large allocations.
The Ryder Cup is a men's golf competition between teams from Europe and the United States, which takes place every two years.
It has become one of the world's most prestigious sporting events and attracts a global audience.
Security measures
The most recent Ryder Cup took place in September 2012 at the Medinah Country Club, in Illinois.
The next tournament will be held at the Gleneagles in September 2014.
Organisers said the actual tickets would be posted to successful applicants next year.
They warned that they will contain a photograph of the buyer and a unique barcode, in an effort to prevent them being re-sold on the internet to other fans.
Ryder Cup Europe warned successful applicants not to attempt to re-sell their ticket.
They said they would be informing those who were unsuccessful in the ballot to avoid ticket reselling websites as the security measures were designed to eliminate the possibility of ticket transfers.
Europe's Ryder Cup director, Richard Hills, said: "In Europe the host nation stands to gain substantially from holding a Ryder Cup, as we will see in Scotland, when people from 75 different countries will travel to Gleneagles especially for the event."