Stirling Council 'interfering' in national pay negotiations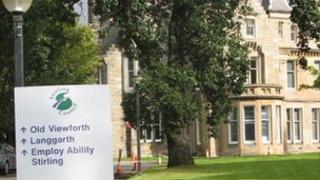 Stirling Council has been accused by unions of interfering in national pay bargaining negotiations.
The Unison union said the council had offered staff a 1.5% pay cut and asked them to work an extra hour a week.
The proposal was made despite council workers across Scotland narrowly voting to accept a 1% pay rise on Wednesday.
Stirling Council said the net reduction in pay was actually 0.5% across all pay grades, and the additional hour was in line with a standard working week.
A spokesman said staff's working week would rise to 37 hours - the same as half of Scotland's 32 councils.
Strike action
However, Unison claimed the offer, combined with the requirement to work an extra 7.5 days a year, actually amounted to a 4.5% pay cut for the majority of employees.
It said following the latest meeting with the council, unions had been left with no option but to proceed with a strike.
Unison Stirling Council branch secretary, James Douglas, said: "Stirling Council is interfering in national pay bargaining negotiations.
"What has been offered is insulting and we will be taking industrial action by the end of the month."
On Wednesday, local government umbrella body Cosla offered staff a 1% pay rise, which had followed on from a two-year pay freeze.
Unison said the offer had been "reluctantly" accepted.
However, Unison's Stirling branch said its local council had continued to proceed with plans for a pay cut.
Balancing budgets
Stirling Council said the pay offer had "nothing to do with the national pay award", and it was within the local section of the national local government contract meaning it was for individual councils to determine.
A spokesman said: "The national pay award, whatever is agreed, will of course be implemented in full in Stirling, as we are bound to do."
The council said it had to find savings of £24m in order to balance its budgets.
It said this had followed substantial real terms reductions in local government funding from Scottish government over this year and the next three years, along with a council tax freeze.
It added that despite the net reduction of 0.5% in pay, employees on the two lowest grades would see an increase in pay following the implementation of the Living Wage at £7.50 an hour.