Mags Haney dies after cancer battle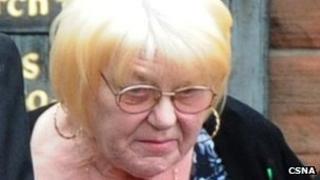 A woman who became notorious as the head of a crime family has died after a battle with cancer.
Mags Haney, 70, passed away at the Forth Valley Royal hospital in Larbert in the early hours of Tuesday.
She first came to prominence in the 1990s as she led an anti-paedophile campaign in the Raploch estate in Stirling.
It later emerged she and some family members were involved in crime, and she was forced out of the area.
The Haneys became known in the media as the "family from hell" following comments made about them in court by a Stirling sheriff.
Haney, who was popularly known as Big Mags, was jailed for 12 years in 2003 after being convicted of being the controller of a large-scale heroin dealing operation based in council flats in Stirling.
She was making up to £1,000 a day from the operation in addition to getting paid £1,200 a month in state benefits, the High Court in Edinburgh was told.
Her daughter Diane was sentenced to nine years, niece Roseann to seven years and son Hugh to five years for their involvement.
Mags Haney was released from prison in 2009, and had been living in Alva, Clackmannanshire. Her 18-year-old grandson Barrie Bradley was murdered in the town in 2010.
She had previously survived after being diagnosed with cervical cancer while serving as a prisoner at HMP Cornton Vale, but was later diagnosed with lung cancer.
A spokeswoman for NHS Forth Valley confirmed that Haney had died early on Tuesday morning with relatives by her bedside.