Poem inscribed on Bannockburn battle monument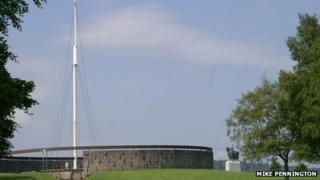 A specially-commissioned poem has been inscribed on a monument at the Battle of Bannockburn site.
Scottish writer Kathleen Jamie wrote the work, which is now displayed on the rotunda at the battleground.
The National Trust for Scotland and Historic Scotland have been carrying out extensive work at the site.
It is intended that the work will be finished by 2014, the 700th anniversary of the battle in which Robert the Bruce defeated an invading English army.
The words of the poem have been carved into a new timber ring on the rotunda.
Carver Richard Douglas from the specialist company Andrew Miller Architectural Joinery has been working on the inscription since June.
Kathleen Jamie is a professor of creative writing at nearby Stirling University.
She said: "From the start I wanted this piece of work to make a nod to the Scottish literary tradition and the Scottish landscape, to evoke the deep love of a country that makes one community out of many people.
"As Bannockburn is so important in Scottish history, it seemed proper to acknowledge our cultural traditions, especially poetry and song about landscape."
David McAllister, director of the Battle of Bannockburn project, said: "The designer behind the original Rotunda monument, architect Sir Robert Matthew, planned for it to bear an inscription, and half a century later we have fulfilled this intention.
"The Rotunda is the central place for commemoration of the Battle of Bannockburn and our intent is to continue that tradition of memorial and contemplation.
"Kathleen's poem encapsulates the essence of the Battle of Bannockburn project - introducing a contemporary take on the battle and the landscape while paying respect to the memory of this important moment in Scottish history."