New £1.3m mosque opens on Dundee city campus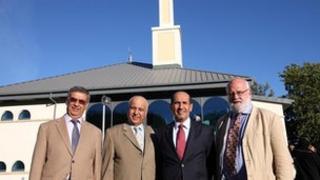 A £1.35m mosque has been opened on the campus of Dundee's Al-Maktoum College of Higher Education.
The Al-Maktoum Mosque, the first in the city with a minaret, features prayer and worship areas and will be open to the community in general.
The college was established to promote cross-cultural understanding of Islam and Muslims in the wider community.
It was created by the Al-Maktoum Foundation, which was established in Scotland in 2005.
Mr Mirza Al-Sayegh, a member of the foundation's board of trustees and chairman of the college board, said: "I am delighted that the mosque has been completed and I'm sure it will prove to be a welcome addition not only to the college campus but also Dundee as well at a time of exciting change in the city.
"The mosque is open to all and for the benefit of all. We regard this development as a heartfelt contribution to the city, the community at large and to multiculturalism."
Acting principal of the college, Dr Hossein Godazgar, added: "The college continues to focus purely on scientific, intellectual and non faith-based activities to promote the cross-cultural understanding of Islam and Muslims in conjunction with members of other religions and none in such a crucial time.
"We are, of course, pleased to represent multiculturalism in geographic terms, too. Our main building is already attached to a Catholic Church and we are now seeing a mosque being added to this physical geography.
"I hope our neighbourhood will include even more buildings belonging to different faith communities in future."
The UAE Ambassador to the UK, His Excellency Abdulrahman Ghanem Almutaiwee, was among those marking the opening of the new mosque.