Escaped Eagle Owl recaptured in Stirling cemetery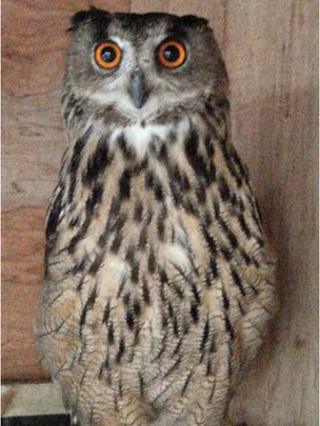 A 30-year-old European eagle owl which flew off during a children's show near Stirling Castle has been found.
It was rescued from the Old Town Cemetery in Stirling after escaping during the event on Saturday afternoon.
The owl had been part of an 11-bird display at the Cowane's Trust, during which youngsters were given the chance to hold it for a few minutes.
The owl, called Gale, was recaptured safe and well, but hungry, on Monday night after a three-day search.
Its handler, Eric Rennie, 60, who runs Perthshire Sporting Plus, said he was relieved to have the owl back in safe hands.
He said it had become spooked on Saturday while being handled by a member of the public.
"She got a wee bit scared and slipped off the guy's hand and flew away," he said.
"She went straight for a church, landing near a spire then moved to a windowsill. I was able to get up there but couldn't quite reach her before she flew off again and disappeared."
On Sunday, Mr Rennie got a phone call telling him the owl had been spotted at the Old Town Cemetery next to Stirling Castle.
However, despite his best efforts to catch it, the owl flew off again.
He said that on Monday a local dog walker called him again to say it was sitting on a gravestone in the cemetery.
Mr Rennie said: "When I got there, I looked up about 300 yards and she was sitting high up on the castle wall.
"She was hooting so I started hooting back at her. We had a lure with food attached and threw it up into the air to get her attention.
"It was some sight to see her swoop down all that way to the food."
Mr Rennie said that after a while, the owl perched onto a gravestone right next to him.
He said: "I was able to reach over and grab her leash, which was still attached to her.
"I just thank goodness she's back home safe and sound. She has a good nature and likes to cuddle in and on the way back home she kept cuddling into my neck."