Dundee Cake seeks EU name status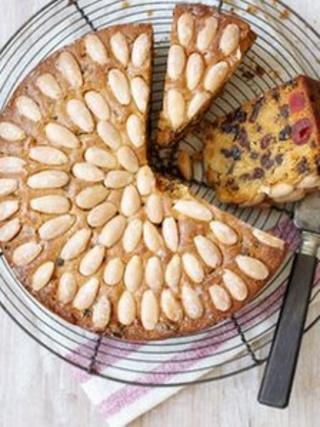 An application is to be lodged to gain European protection for Dundee Cake.
The distinctive fruit cake is most famous for the blanched whole almonds which are arranged on the top.
Although the cake's name suggests it is made in Dundee it can currently be produced anywhere in the world yet still retain the city's name.
The aim of Protected Geographical Indication (PGI) status is to ensure it is mixed, baked and decorated in the Dundee area.
Stornoway's famous black pudding was granted protected status in May this year - putting it alongside the likes of Champagne and the Cornish pasty.
The status means it can only be described as Stornoway black pudding if it is produced in the town or parish of Stornoway on Lewis.
People on the island were concerned at the international use of Stornoway or Stornoway-style on menus to describe inferior puddings.
The Scottish government and Scotland's Rural College have been working with producers and experts from the University of Abertay on an application for EU protection for the Dundee cake.
The application will now be subject to a national consultation.
The Dundee cake was first mass produced by Dundee marmalade maker, Keiller's, although similar recipes had previously existed throughout Scotland.
It is a light and buttery cake containing sultanas, almonds, Amontillado sherry and candied orange peel.
Rural Affairs Secretary Richard Lochhead said: "We can trace its origins back hundreds of years to the kitchens of the marmalade inventor Janet Keiller, making it a thoroughly Dundonian delicacy which deserves European recognition for its unique characteristics and long association with this city.
"Achieving PGI status for Dundee Cake will ensure that consumers at home and abroad have a 100% guarantee of the product's authenticity."
Dundee baker Martin Goodfellow, who spearheaded the campaign for protected status, said: "Although the Dundee Cake is a product that is known all over the world, it does not currently enjoy geographical protection and is produced in a number of locations to various quality levels.
"It is a significant part of our heritage and it is important that the cake is rightfully associated with the city in which it originated and its quality levels maintained."