River Tay body: Picture of personal items released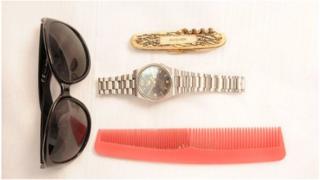 Police trying to identify a man who was recovered from the River Tay have released a picture of personal effects found on his body.
The man was discovered a short distance from the shoreline between Broughty Castle and the Broughty Ferry Lifeboat Station on Friday.
The image shows a watch, sunglasses, comb and penknife found in his possession.
It is hoped someone will recognise them as belonging to someone they know.
Police Scotland said the man was white, aged between 40 and 50, about 6ft tall, stocky, with thick greying stubble.
He was wearing a red waterproof jacket, a woollen snood around his neck, black fingerless gloves and green trousers.
Efforts to establish his identity have so far proved unsuccessful, with officers carrying out inquiries in Broughty Ferry, and contacting other policing areas to see if the deceased matched any reported missing people.
Officers also carried out inquiries with ships berthed at Dundee Port, where it has been confirmed that all crew were accounted for.
Police said they would now extend their search for the man's identity to police colleagues overseas and checks would also be made of fingerprint and DNA databases.