Stirling Council IT workers to strike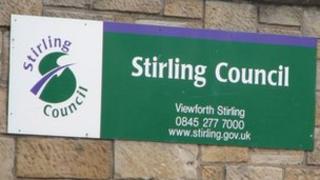 IT workers at Stirling Council are to go on a one-day strike in a row over terms and conditions.
The stoppage, by members of Unison, is due to be held on Monday 16 September.
It follows a day of strike action by general staff last month after the council proposed a 0.5% pay cut across all pay grades and an additional hour of work per week.
Stirling Council claimed nearly half of all staff have now agreed to accept changes to their terms and conditions.
However, Unison said its members had been signing up "under protest" in order to keep their jobs and pledged "further action".
The union has described the measures as a 1.5% pay cut after council staff across Scotland narrowly accepted a below-inflation 1% pay rise.
'Under protest'
Stirling Council chief executive, Bob Jack said: "Unison have told us that they are calling on some IT workers to strike next Monday.
"This weekend the union urged its members to agree to the new terms and conditions, so it is disappointing that it has now veered in a different direction and is pressing some of them to strike.
"We are working to put measures in place to try to make sure public services are not affected and that the rest of our staff can get on with their jobs as normal."
The council said the new terms and conditions would help the authority save £2.5m - equivalent to 120 jobs.
Lorraine Thomson, Unison branch secretary, said members were continuing their protest against the "imposition" of changes to pay and terms and conditions.
She added: "Following legal advice, we advised our members to sign, stating they were doing so under protest/duress to protect their jobs.
"Our commitment to our members in facing this imposition is absolute and we are proceeding with further industrial action as mandated by the members."