Scottish SPCA reports huge rise in cygnet rescues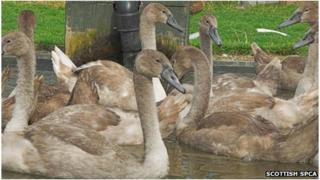 The Scottish SPCA has reported a 100% rise in the number of sick, injured and orphaned cygnets coming into its care.
The animal charity said it was currently caring for 43 mute swan cygnets, double the number it cared for during the same period last year.
Welfare officers have rescued 127 swans so far this year, 70 of which have been juveniles.
All the swans are taken to the Scottish SPCA's rescue centre near Alloa in Clackmannanshire.
Centre Manager Colin Seddon said, "There isn't one single reason for the increase although we do feel that more people than ever now know to contact us, rather than the RSPCA or the RSPB, if they see a wild animal in distress.
"Some of the cygnets have been found wandering on roads and car parks while others have been attacked by animals, such as dogs, or have been chased off ponds by more dominant swans.
"They are very territorial creatures and sadly competition for nesting and breeding sites is fierce."
Mr Seddon said that once the animals are old enough to be independent they are released back into the wild.
He added: "We release cygnets at the time when they are normally dispersing from their parents and at sites where food is provided to help them through their first winter.
"These are sites already frequented by wild-reared swans of all ages so it's a great introduction for them."