Rangers fan posted Neil Lennon Facebook threat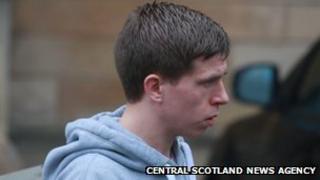 A Rangers fan who urged people on Facebook to "send mair bombs and bullets" to Celtic manager Neil Lennon has been warned he could face jail.
William Kilpatrick put message on the site using his mobile phone as he left the branch of Morrisons where he worked.
It was immediately reported to police by a concerned colleague.
Kilpatrick, 22, of Bannockburn, was found guilty of breaching the peace after a trial.
Stirling Sheriff Court heard that the post was made on the day of an Old Firm game in 2011 after Lennon and other prominent Celtic supporters had received threatening packages in the mail.
'Just banter'
The court was told that although there were no known repercussions, there was every chance that others might have taken Kilpatrick seriously, leading to public disorder.
Dev Kapadia, prosecuting, said: "It was a dangerous thing to do.
"It was a misguided and reckless comment, which could have caused others to commit violence."
Kilpatrick, whose Facebook profile picture showed him in a blue Rangers top, said the comment was "just banter".
But after a trial lasting a day and a half, a jury of ten men and five women found him guilty, by majority verdict, of causing a breach of the peace.
Sheriff Wyllie Robertson deferred sentence until 23 October to allow background reports on Kilpatrick to be compiled.
He said: "I will continue bail meantime, but that should not be taken that any sentence, including a custodial sentence, is ruled out."