Dundee suspects urged to give themselves up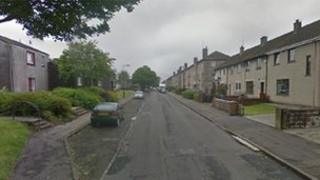 Three men involved in two incidents, one with weapons, in a residential street have been urged to hand themselves in.
The men, all in their early 20s, were seen damaging a car and house window on Balbeggie Street in the Douglas area of Dundee.
Less than three hours later, two men arrived at the same address with weapons, but left soon afterwards.
The incidents happened on the evening of Wednesday 18 September.
The suspects first arrived at about 18:30 in a dark-coloured Vauxhall Vectra driven by a fourth man, police said.
They banged on the front door of one property before breaking the windows of a parked car, and then threw an object which broke the glass of a window at the address.
Hooded tops
The men left in the car, heading towards Balerno Place.
They were wearing dark hooded tops. One had a Nike swoosh design and one man had red hair which was seen from under his hood.
At 21:00, two men arrived at the same address, allegedly with weapons, but left shortly afterwards in a silver people carrier.
Both were wearing dark hooded tops.
Officers said they were pursuing positive lines of inquiry for the connected incidents and asked the suspects to come forward.
Det Insp Gary Ogilvie said: "These individuals are well aware that we are looking for them and that we will continue to make inquiries with their families, friends and associates, as well as the communities they live in, as part of our determined efforts to find them.
"They should know that the net is closing and the best thing they could do now is come to us now before we get to them."
CCTV footage will be reviewed by police and door-to-door inquiries are continuing.