Perth City Hall: Only one development bid lodged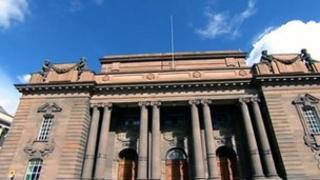 Only one bidder has come forward with proposals to redevelop Perth City Hall, it has emerged.
Perth and Kinross Council had wanted to pull down the Edwardian building but the move was blocked by Historic Scotland last year.
Developers had until last Thursday to submit proposals.
The only bid to have been lodged was from a local group which believes the hall could be transformed into an indoor food market.
Its proposal will now be assessed.
The council had initially refused to say how many bidders had come forward.
Uncertainty over the future of the hall has rumbled on for years.
The building has lain unused since a modern concert hall was opened in the city eight years ago.
Perth and Kinross Council had agreed to demolish the city hall to create a new civic space but Historic Scotland called a halt to that 18 months ago, telling the authority it should explore other options.