Stirling Council to oppose Dart Energy plans gas plans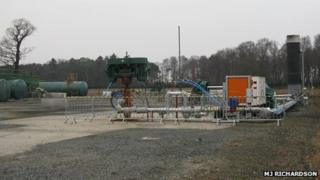 Stirling Council has said it will oppose controversial plans to extract gas from coal beds in the Forth Valley.
Dart Energy is currently awaiting the outcome of an appeal to the Scottish government for planning permission to drill at 14 sites.
The application, which covers drilling sites in both the Stirling and Falkirk areas, has already attracted several hundred complaints from locals.
Ministers are due to rule on the planning application in the spring.
Members of Stirling Council's planning and regulation panel unanimously agreed to oppose any granting of permission following a meeting on Thursday.
'Cumulative impact'
They said that there were "outstanding matters in terms of the potential environmental effects" of the proposals which had not been resolved.
Dart Energy's proposal seeks to extract coal bed methane using a series of wells and boreholes, three of which are proposed in the Stirling area, with a further 11 proposed in the Falkirk area.
The firm also wants to build a water and treatment plant.
Stirling councillor Margaret Brisley said: "The panel has resolved to oppose the granting of planning permission with regards the forthcoming appeal by Dart Energy.
"This decision was reached on the basis that there are outstanding matters with regards environmental impact, and that the proposal is contrary to planning policy in respect of cumulative impact on the area."