Perth City Hall: Redevelopment bid to be rejected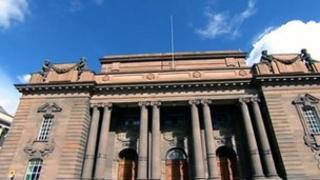 The sole bid to redevelop Perth City Hall and save it from demolition has been rejected by the council officials.
Perth and Kinross Council had wanted to pull down the category B listed Edwardian building but the move was blocked by Historic Scotland last year.
The only bid lodged by the deadline was from a local group seeking to transform it into an indoor food market.
A report from independent property experts said the bid did not meet the eligibility criteria.
Council officials are now again recommending that the City hall building should be demolished.
The recommendation will be put before the full council at a meeting on 11 December.
Officials want to be allowed to ask government ministers to let the building be pulled down despite its listed status.
'Lacking in detail'
Uncertainty over the future of the hall has rumbled on for years.
The building, erected in 1911, has lain unused since a modern concert hall was opened in the city eight years ago.
Perth and Kinross Council had agreed to demolish the city hall to create a new civic space but Historic Scotland called a halt to that 18 months ago, telling the authority it should explore other options.
Initial bids to save the hall were placed a year ago and the process went to a second stage in October.
At this stage just one bid - from Perth City Market Trust (PCMT) - was received and it was put forward for assessment by independent commercial property experts, Jones Lang Lasalle.
Nina Stobie, associate director of Jones Lang LaSalle, said there was "some merit in the proposed use and design".
But she added: "The deliverability of their concept with regard to the proposed commercial terms, business case and funding arrangements are, in our opinion, lacking in detail and raise significant concerns regarding the ability of PCMT to deliver the project."
She said they did not provide "sufficient information or evidence" to back up their claim that they could redevelop the City Hall.