Perth City Hall: Council votes in favour of demolition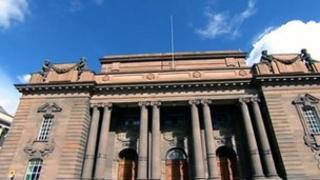 Councillors in Perth have voted in favour of demolishing the city's civic hall.
It came after a sole bid to redevelop the unused category B listed building as an indoor food market was rejected by officials last month.
The local authority announced in 2011 that they were minded to demolish the Edwardian hall and create a new civic square in its place.
However, their plans were blocked by Historic Scotland last year.
Councillors will now seek the Scottish government's permission to pull down the building.
The city hall, erected in 1911, has lain unused since a modern concert hall was opened in the city eight years ago.
Last year Historic Scotland instructed the local authority to find a developer to save the building rather than demolish it.
That process resulted in only one proposal - to create an indoor market in the space.
The council tasked property firm Jones Lang Lasalle with examining the feasibility of the proposal.
Its report concluded that the plan would require public money and was unsustainable.