Sherlock Holmes' Dr Watson was 'based on Dundee doctor'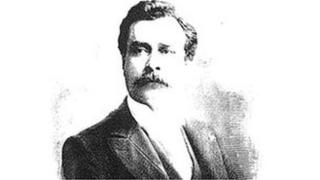 An "elementary" piece of evidence has suggested Sherlock Holmes' sidekick Dr Watson was based on a Dundee doctor.
Scottish Osteopathy Society members were looking at old newspapers when they spotted an article by a man who said Dr Watson was based on his father.
The 1938 article stated: "The detective's companion Watson was my father William Smith."
Osteopath Tim Baker recognised the name and knew Dr Smith had a practice in Dundee in the early 20th Century.
The newspaper article was among a number of newspapers and books on the history of osteopathy, brought to the meeting in Aberdeen by Jason Haxton, curator of the American Museum of Osteopathy.
Penned by William Smith's son Cuthbert, it had the headline "Watson's Son Reveals Real Sherlock Holmes".
Leading Osteopath
Tim Baker, of Dundee's West End Osteopathic Clinic, said: "I glanced at the headline but did not really pay heed to it.
"Jason Haxton had done some work on the history of osteopathy with reference to Scotland and two of the main players were William Smith and Martin Littlejohn, both Edinburgh-trained doctors who played a leading role in bringing osteopathy into the 20th Century.
"I started to pay a bit more attention as I knew that William Smith had a practice in Dundee in the early part of the century but I knew nothing else."
Dr Smith became one of Scotland's first osteopaths during the 1880s.
When Dr Smith was studying in Edinburgh he met Dr Joseph Bell - the man that inspired Arthur Conan Doyle to create Sherlock Holmes.
Cuthbert Smith - who lived in Dundee before moving to the US and settling in Des Moines - wrote: "The detective's companion Watson was my father William Smith."
He added that Doyle and his father had marvelled at Dr Bell's talents and had asked permission to base a detective character on him.
Dr Bell not only agreed but also offered many helpful suggestions on how the character should be portrayed.
'Similar experiences'
There have been several other claims on who was the inspiration for Sherlock Holmes' famous sidekick over the years.
Dr John Watson - a Southsea doctor who served time in Manchuria and was an acquaintance of Doyle - has been linked to the character.
And evidence from the first Holmes' novel, A Study In Scarlet, suggests that then Surgeon-Major Alexander Francis Preston may have been the model for Dr Watson as their experiences in the Afghan war were similar.
However, the revelation that Dr Watson was based on Dundee's William Smith has cast new light on who may have been the true inspiration for the famous sleuth's companion.