Salmonella warning issued over pet reptiles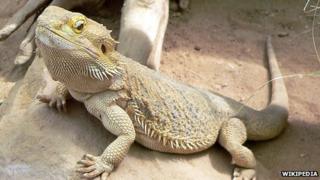 People who have pet bearded dragons and other reptiles are being urged to be aware of the risk of salmonella.
Public health experts say there have been at least four cases of salmonella associated with bearded dragons in Forth Valley in the last eight months.
Children are particularly at risk because they like to stroke and handle pet reptiles.
Reptiles such have become popular as pets but their droppings contain bacteria which can cause salmonella.
Owners of bearded dragons and other reptiles are advised to wash their hands thoroughly after handling them and clean down any surfaces which they may have been in contact with.
NHS Forth Valley have produced a guide for the best practices in keeping the reptiles and reducing the risk of infections from them.
Bearded dragons are originally from Australia and first became popular to keep in the 1990s, despite their native country banning them as household pets.
They can grow up to 70cm (2ft) in length and get their name from having distinctive flared necks.