Salmond praises new Bannockburn visitor centre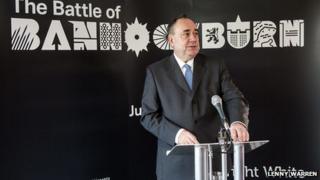 Alex Salmond has described Bannockburn as the "birthplace" of modern Scotland as he toured a new visitor centre about the famous battle.
Visitors to the new Stirling attraction can learn about the battle through 3D technology and interactive exhibits.
It opens to the public this weekend ahead of the 700th anniversary of the Battle of Bannockburn on 23 and 24 June.
The first minister was the first person to sign the guest book.
'Stunning graphics'
He was given a tour of the site with guests including Lord Elgin, a descendent of Robert the Bruce, and actor David Hayman who voices Sir James Douglas, a key Scottish lieutenant, in the exhibition.
Mr Salmond said: "The highest compliment I can pay to this centre is that it rises to its setting.
"Through sensitive architecture, modern scholarship and stunning computer graphics, it will enable people from Scotland and around the world to understand why Bannockburn has resonated down these ages.
"It communicates to a new generation the significance of this site as the birthplace of our modern nation."
At the end of each visit there is a battle game where visitors will be allocated an army division which appears on a massive 3D map of the Stirling landscape, giving a bird's-eye view of the battle.
"Battlemasters" will be on hand to provide historical details, tips and advice before declaring the successful side.
They will then summarisie the results of the action with an overview of how the battle played out in 1314 and reveal the 21st-century version of the landscape and locations of conflict.
Mr Salmond added: "Here at Bannockburn are places where thousands, far too many thousands, of men lost their lives. Part of the remembrance of any battle, even one 700 years ago, should be respect and honour for the fallen.
"If the battle did not in itself win the war, it certainly did prevent defeat and six years later inspired the Declaration of Arbroath, to become known as Scotland's Declaration of Independence."