Community policing pledge from new Tayside commander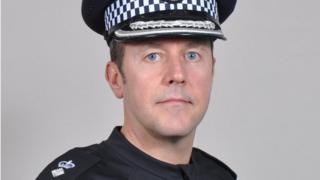 The new chief police officer in Tayside has pledged to crack down on violent crime and boost community policing.
Ch Supt Eddie Smith said tackling violence in the area was his "number one priority" after taking over the role of divisional commander.
And he promised to run the local division, one of eight in the unified Police Scotland force, "with the people, for the people".
Tayside division has recorded a steady drop in violent crime in recent years.
Ch Supt Smith has taken over from Hamish Macpherson as the Tayside divisional commander after almost 28 years on the force, mostly spent in Strathclyde.
He said community policing "with the people, for the people" would form the basis of his time in Tayside.
He said: "Violence and anti-social behaviour are very much a priority for the community in Tayside, as are drugs, road safety, and organised crime.
"I take violence very, very seriously and I make no apology for saying it's my number one priority.
"If I can stop one mother and father from grieving because their son or daughter has been the victim of a violent attack, that could even be murder, that's something I'll be doing.
"Our officers are deployed in areas that intelligence tells us are a problem for that, and the same goes for drugs misuse and and acquisitive crime."
FBI training
A trained firearms commander and hostage negotiator who attended the FBI academy in the USA, Ch Supt Smith also has a specialised background in event management.
He said this would prove useful with the Ryder Cup and Commonwealth Games heading for Tayside in the coming months.
"These events are a fantastic opportunity for Tayside to show off everything that's good here," he said.
Ch Supt Smith has spent the first two Friday nights of his command patrolling the city centres of Dundee and Perth, and plans to visit Angus in the coming weeks.
And the force is carrying out a consultation and engagement process with local residents to "forge a relationship with the community".
Positive work
Ch Supt Smith said his main job was to build on the the positive work done over the last 11 months since the single force was introduced.
Tayside division has posted significant reductions in violent crime and serious assaults, while the number of people reporting abuse has risen sharply.
"There are far fewer victims of violence, and more people coming forward to report domestic abuse and historic sexual abuse," Ch Supt Smith said.
"Women and men who are victims of that horrendous crime can have confidence they can contact us and be treated with dignity and respect, and we will be very thorough in our investigations in catching perpetrators of that crime."