Verdant Works gets £1.8 million Heritage Lottery award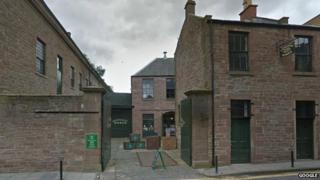 The Verdant Works museum in Dundee is to undergo a £2.9m renovation after winning support from the Heritage Lottery Fund.
The £1.8m lottery award will help Dundee Heritage Trust complete the restoration of A-listed derelict buildings on the Verdant Works site.
The museum celebrates Dundee's historic importance as a textile production hub.
The High Mill Open Gallery project will almost double the size of the current museum.
The project is also being funded by £500,00 from Historic Scotland, with added support from Leisure and Culture Dundee.
The plans for the museum will open up 971 square metres of new exhibition space, and put a large amount of material from the trust's Recognised Collection of National Significance on show.
Other plans include restoring a Boulton and Watt bean engine dating back to 1801 at the site, establishing a family history research site, and expanding education programmes by hiring a new learning officer.
Verdant Works is operated by Dundee Heritage Trust, which also operates the Discovery Point exhibition at the city's waterfront.
'Fantastic news'
Gill Poulter, heritage director for the trust, said she was "delighted" with the "fantastic" news.
She said: "The project gives us the opportunity to create something new and different that will have a dynamic future of its own but which is complementary to the existing jute museum, helping to protect and enhance it.
"We are incredibly grateful to the Heritage Lottery Fund for supporting this project from its very beginnings, seeing its transformative potential and being as excited as ourselves about all the opportunities it presents."
Colin McLean, head of the Heritage Lottery Fund in Scotland, added: "This is an exciting time for Dundee as it develops as a cultural visitor destination so we are delighted that the heritage of the industry on which the town once thrived is playing a key role in that vision.
"Incorporating these last two buildings into the existing five-star visitor attraction will complete the transformation of Verdant Works with a stunning new space for exhibits and museum events."