Dundee Blues Bonanza festival cancelled due to illness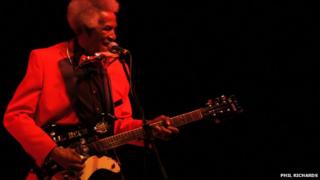 A three-day blues festival set for its 20th year in Dundee has been cancelled.
About 200 bands had been booked for the annual Dundee Blues Bonanza, which has been scrapped due to ill health of organisers, funding issues and worries over clashing with the World Cup.
The event, billed as Europe's biggest free blues festival, brings thousands of people into city centre pubs every year.
Organisers say it will return "refreshed and raring to go" in 2015.
The Blues Bonanza was scheduled to run through the weekend of June 27-29, with dozens of city pubs signing up as host venues.
Although the headliners of this year's festival had not been announced, previous acts included Li'l Jimmy Reed, Kat Pearson, Lurrie Bell and Muddy Waters' son Mud Morganfield.
Previous years saw up to 30 venues hosting more than 120 bands, taken in by an estimated 12,000 music fans.
'Year out'
A statement posted on the Dundee Blues Bonanza website read: "Very regretfully, due to several issues including health, funding and the World Cup, the Dundee Blues bonanza committee have decided that the festival will not take place this year.
"We intend to take a year out and come back refreshed and raring to go in 2015. Hopefully with more corporate support.
"Thanks to all the musicians and fans for your invaluable support and friendship over the years."
The news was greeted with disappointment from music fans commenting on the site.
The event is the second music festival to be cancelled this summer due to clashes with the football World Cup in Brazil.
The organisers of RockNess, one of the country's largest festivals, announced this month that they were taking a year out due to the World Cup and Commonwealth Games clashing with available dates.