New £2.5m oil rig repair base for Dundee port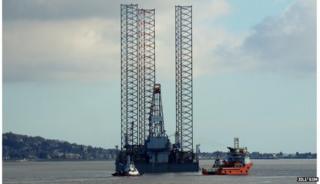 A major new oil rig repair and subsea engineering facility is to be installed at the Port of Dundee.
Leading Aberdeen-based offshore firms PD&MS Energy and Harlen have committed £2.5m to the project.
Dozens of jobs will be created at the 38,750 sq ft facility at Princess Alexandra Wharf in Dundee.
The city already plays host to North Sea rigs for repairs and upgrades at a temporary facility.
The new base will host up to 50 full-time personnel, rising to upwards of 260 including contractors during specific projects, and manage offshore asset service works in excess of £8m in its first financial year alone.
Previously housed at neighbouring Prince Charles Wharf, the new, larger facility is designed for rig repair and upgrade work, vessel repair and large fabrication and engineering work across the energy sectors.
An initial £1m investment has been made in the workshop, with a further £1.5m spread over the next three years.
Dave MacKay, executive chairman and CEO of PD&MS Energy, said: "The buoyant offshore market and our extremely robust order book have given us the confidence to invest significantly in these new premises as well as expanding our offering in the growing decommissioning sector.
"This new workshop offers more space to house our growing workforce and improved infrastructure, allowing us to gear up for further new business going forward."
The news was welcomed in Dundee, where hopes of creating a renewable energy hub at the port suffered a blow last week when Forth Energy dropped plans for a £325m biomass plant.
Port manager Matt North said he was "delighted" with the new investment.
He said: "Dundee is quickly becoming known as the leading port in Scotland which provides a comprehensive and experienced supply chain to support all North Sea vessel calls for maintenance, repair and decommissioning.
"We will continue to work with both companies to attract further business to the port and ultimately to secure further jobs for the city."
PD&MS Energy is also planning new office space in Aberdeen to house up to 400 personnel as part of its ongoing growth plans.
Last year the firm signed a multi-million pound deal with industry giant BP to provide engineering, procurement and offshore construction services for upgrades on North Sea drilling platforms.