Work begins on A9 camera system before committee debate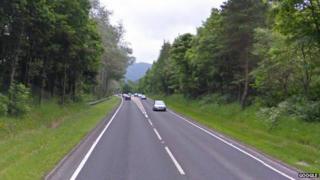 Transport bosses have been criticised for starting work on a £2.5m camera project on the A9 before concerns are discussed by the Scottish Parliament.
Work has started to install 27 speed cameras along the 163-mile route between Dunblane and Inverness.
However the Scottish Parliament's public petitions committee is still to deliberate on the matter after over 2,000 road users protested.
Transport Scotland said evidence has shown that speed cameras save lives.
Campaigner Mike Burns had been preparing to face Holyrood's public petitions committee on 22 April after the meeting was moved back from last week.
His group has submitted 1,000 pages of evidence to the government, along with 2,007 signatures on a petition calling for a re-think of the plans.
He said Transport Scotland had treated the committee process with "total contempt".
He said: "The question must go to the transport minister and to Transport Scotland, why do they have to ignore the deliberation of an influential public committee and start installation in advance of that?
"What are they running scared of?"
Track record
Transport Scotland's A9 Safety Group insists that speed cameras have a "proven track record" of reducing casualties and speeding.
They cite the introduction of average speed cameras to the A77 in 2005 as delivering a 46% reduction in fatalities and a 35% drop in the number of people badly hurt in crashes.
However Mr Burns and his group, "A9 average speed cameras are not the answer", note that half of all accidents on Scotland's longest road are caused by overtaking manoeuvres, while only a small percentage are blamed on excessive speed.
He said: "There are countless alternative systems available to stop or reduce poor overtaking.
"Banning HGVs overtaking each other, or reducing the speed limit for them to 50mph, introducing no overtaking zones, reducing the speed limit in areas like they do on the A90 at Laurencekirk - not one of them has been investigated or modelled and they'd all be much cheaper."
A spokeswoman for Transport Scotland said: "We have committed to having the system installed by October and we have to start work now to meet that deadline.
"In the meantime however, our engagement with the public petitions committee will continue, and we will make every effort to explain our compelling evidence base to members.
"We understand that there has been a great deal of discussion about this measure but we have to trust the evidence from across the world which demonstrates the effectiveness of cameras on a variety of road types."
Work to upgrade an 80-mile stretch of the A9 to a dual carriageway is to be carried out by 2025.
The £3bn project includes a number of other schemes including a "wildlife-friendly" bridge at Bankfoot in Perthshire and improving a number of difficult turns and hairpin bends on the trunk road.