Stirling's programme to lead Armed Forces Day unveiled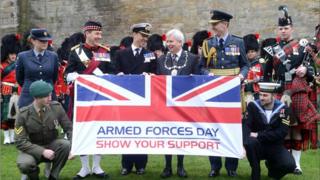 The streets of Stirling will be filled with armed services personnel past and present when the city leads Armed Forces Day in June.
A parade of Royal Navy, Army and Royal Air Force personnel, supported by military bands, will march from Stirling Castle through the city, with 1,500 veterans joining them.
Celebrations and demonstrations will continue through the day on 28 June.
Local Armed Service Day events are planned across the country.
A number of large-scale operational demonstrations including several flypasts and an airshow of current and historic aircraft will take place during the event in Stirling.
Planned demonstrations include Royal Marines fast-roping down from Sea King helicopters, close air support from the Royal Air Force and an Army Apache helicopter, as well as a gun salute from 105 Royal Artillery.
The Armed Forces Day celebrations are part of a big weekend for Stirling, including the "Bannockburn Live" festival marking 700 years since the historic battle, and a mass gathering of pipe bands.
'Tremendously proud'
Brig Paul Harkness MBE, commander of the 51st Infantry Brigade, is the man in charge of the military support for Armed Forces Day.
He said he was "delighted" that Stirling had been chosen to host the celebrations this year.
He said: "Hosting the sixth national event in the shadows of Stirling Castle, with its strong historical links with the Army, will be the perfect arena to lead the rest of the United Kingdom in honouring our Armed Forces personnel, past and present.
"We hope that we will be able to show you some of the things that we do on your behalf in serving our country."
Stirling Provost Mike Robbins added: "Stirling has very close historic links with Britain's Armed Forces so we are tremendously proud to be hosting this fabulous event.
"It is a superb chance for all of us to express our thanks to members of the Royal Navy, Army and Royal Air Force - past and present - for the remarkable work they do for the whole of the United Kingdom."