Tayside pilot to fly around world in 80 days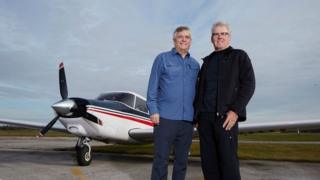 A Tayside retiree is gearing up to fly around the globe in a single-engine plane in 80 days.
Dave McElroy is taking on the 36,000-mile challenge to raise money for Scotland's Charity Air Ambulance.
The 66-year-old will spend at least 275 hours in the air in a Piper Comanche, starting and finishing in Perth and making 52 stops in 25 countries along the way.
The flight is only the second of its kind to take off from Scotland.
Mr McElroy, who is chairman of the Scottish Aero Club, will visit five continents and cross the Pacific, Atlantic and Indian oceans as well as the Mediterranean and Caribbean seas on his flight.
He hopes to raise £150,000 for Scotland's Charity Air Ambulance, which operates out of Perth airport, having already covered the costs of the flight himself along with his Canadian partner Chris Elgar.
He said: "The planning has been challenging in itself.
"It took four months to secure my permit to enter Israeli airspace."
Oceanic flying
Mr McElroy has been flying since he was 19, logging some 2,800 hours in the air.
However he faces many challenges on his adventure - one being a 16-hour flight over the Pacific Ocean, between Hawaii and California.
"Oceanic flying is different because the vista never changes, apart from the weather - hour after hour of endless water and sky," he said.
"My longest over-water flight to date was three and a half hours across the Caribbean."
Mr McElroy will take off from Perth Airport on 19 May, and plans to be back in Scotland by 6 August, via a host of stop-offs including Israel, Pakistan, Indonesia, Australia, Fiji, California, Panama and Newfoundland.
He said his personal highlights of the route included meeting up with a Scottish man living on remote Christmas Island, and making an appearance at the world's largest airshow in Oshkosh, Wisconsin.