Health Protection Scotland probes scarlet fever outbreak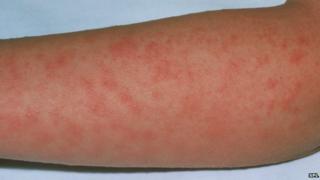 Health Protection Scotland is investigating a possible outbreak of scarlet fever among groups attending a Perthshire adventure centre.
Scarlet fever is a seasonal streptococcal infection and is thought to be increasing in the community.
Anyone who has attended the Dalguise adventure centre since Friday 28 March and has experienced symptoms, including a rash, should contact their GP.
Schools around Tayside have also warned parents about cases in recent weeks.
Other symptoms of scarlet fever include a high temperature, sore throat, a flushed face and a red, swollen tongue.
PGL, which runs the activities facility at Dalguise, just outside Perth, is supporting the initial investigations and following infection control advice to limit any ongoing risk to those using the centre.
'Easily treated'
Health Protection Scotland is leading the inquiry while liaising with NHS boards and Perth and Kinross Council.
Dr Jim McMenamin, consultant in public health medicine at HPS said: "We are currently seeing an increase in streptococcal infections in line with our seasonal expectation.
"Scarlet fever can easily be treated with antibiotic tablets meaning further problems are very unlikely. Once a child has been on a course of antibiotics for at least 24 hours, they should be able to resume their normal activities.
"If your child has recently attended the Dalguise adventure centre and is showing symptoms of scarlet fever we would advise that you contact your GP or the NHS as soon as possible."
More than a dozen schools in Dundee and Angus have sent letters to parents in recent weeks warning of local scarlet fever cases, while a much higher than usual level of infection in England and Wales has been recorded.