Fortnightly collections for Dundee in recycling bid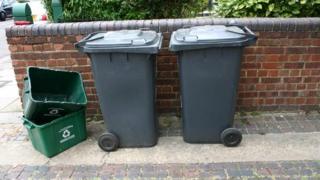 Dundee is set to scrap weekly wheelie bin collections in a bid to nearly double the city's recycling rate.
The city council has drawn up a range of new measures, costing £1.4m, to help meet national recycling targets.
If approved the new plans would see general waste collections drop to once a fortnight.
However this would be balanced out by the introduction of more household recycling bins, including a new weekly collection of food waste.
Dundee is one of five of Scotland's 32 local authority areas which still has a weekly collection of residual rubbish.
A detailed report that will be discussed by the city council's environment committee underlined that the top ten councils with the highest recycling rates all operate fortnightly pickups.
The report urges councillors to approve a new waste management system with new food waste bins and larger containers for cans, plastics and glass, alongside the current paper and cardboard and garden waste bins.
Recycling rate
Council environment convener Craig Melville said changes needed to be made for the authority to hit government targets.
He said: "Our recycling rate stands at just under 32% and we have to get that to 60% in just over five years' time.
"I understand that the proposals we are putting forward represent change for people. That is why we would be looking to put a phased implementation plan into place with accompanying communication and information for people in local communities.
"Trials of food waste and larger bins for plastic and glass have been operating successfully for some time now and I am proud of the long record of recycling that people in Dundee have supported.
"I am determined to ensure that the correct choices are made for Dundee. These proposals represent a sensible way forward."
Mr Melville noted that the authority had studied different plans for houses, flats and multi-storey residents to make sure all of them receive an appropriate service.
The staggered introduction of the plan would work across the city in six phases, with the first phase of about 12,000 properties introduced later this year.
The next five phases would then follow over a period of about two years.
Overall capital costs for the proposed system stand at £1.4m, with £350,000 a year in additional revenue costs, although these can be covered from existing budgets.