Thousands of animals rescued by new wildlife centre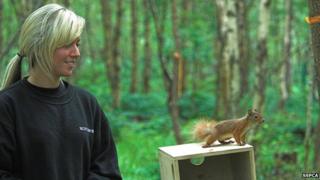 The number of injured animals released back into the wild has increased 18% since a wildlife rescue centre opened.
The Scottish SPCA's £3.5m national wildlife rescue centre at Fishcross, near Alloa, opened two years ago.
The donation-funded service rescued and released 2,795 animals back into the wild in 2013 alone, and has cared for hundreds more since.
Staff appealed for the public to notify them via the SSPCA hotline when they find a sick or injured wild animal.
Centre manager Colin Seddon said he expected to see more casualties being cared for at the centre by the end of 2014 than ever before.
He said: "The significant rise is probably due to an increased awareness among the Scottish public about how we can help sick, injured and orphaned wildlife.
"We have also invested significantly in our frontline staff, meaning we have more officers to respond than ever before.
"Releasing wild animals fit and healthy back into their natural habitats is always our aim wherever possible so this is incredibly encouraging."
Among the animals taken in by the centre recently was Squirrelly, a one-week-old squirrel kit which was found by a dog in woods near Inverness.
It was thought the orphan had fallen out of a tree. It had to be syringe-fed every two or three hours until it was old enough to eat solid food.
The squirrel was successfully released back into the wild at two months old.
Martina the pine marten was also rescued after falling from a tree in the Highlands.
The 10-week-old cub had a back injury and was unable to move, leaving it vulnerable to predators.
However, the pine marten responded well to treatment at Fishcross and was returned to its natural habitat once able to fend for itself.
The wildlife team also dealt with their first ever capercaillie, a rare member of the grouse family.
The hen was found with an injured shoulder in Aberdeenshire, but made an "excellent" recovery and was released back into the wild less than a week later.
The Scottish Society for the Prevention of Cruelty to Animals is celebrating its 175th anniversary.
Its dedicated animal helpline received more than 228,000 calls in 2013.
Mr Seddon said the service had also provided advice to other organisations and wildlife charities across the globe.
He added: "It's wonderful to know that we're not only helping the animals directly in our care, but others all over the world.
"We are tremendously proud of our progress and grateful to all our supporters who made it possible for us to build this much-needed centre."