New weekly Scottish news review magazine to be launched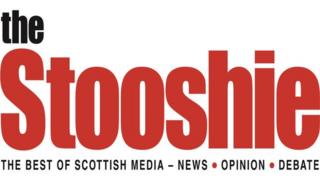 A weekly magazine covering Scottish news and affairs is being launched by DC Thomson.
The Dundee firm is to publish The Stooshie, a weekly summary of news, views and opinion drawn from the media across Scotland.
A free edition will be released on 16 May, a week before the paid-for title.
DC Thomson is one of the country's main publishers of magazines, as well as newspapers including the Sunday Post, the Courier and the Press and Journal.
The Stooshie will include local stories from around the country as well as arts, food, drink, books, travel and property.
There will also be a weekly column written by comedian and BBC Radio Scotland presenter Fred MacAulay.
Its content will be similar to that of London-based news review The Week, providing simplified guides to the week's main stories and controversies - or what is causing a "stooshie" in Scotland.
Editor-in-chief Richard Neville said: "This year is going to be an extraordinary news year for Scotland.
"The Stooshie's editorial team will work hard to bring readers the week's top stories drawing on a range of coverage from the country's newspapers, magazines and leading websites."