Drug dealers jailed for Forth Valley cannabis and pills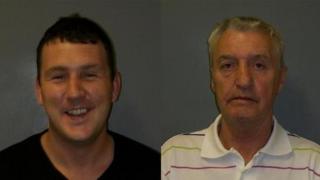 A pair of Forth Valley drug dealers have been jailed for a combined six years and 10 months.
Frank Haldane, 61, and David Paterson, 29, were caught in the midst of a deal with 10kg of cannabis and 2,000 diazepam tablets last summer.
Both pled guilty to drug offences earlier this year, and were jailed at Falkirk Sheriff Court.
Paterson was ordered to spend 42 months behind bars, while Haldane was jailed for three years and four months.
Police stopped Haldane as he attempted to pass 10kg of cannabis to Paterson in Alva in June 2013.
A subsequent search of Paterson's vehicle resulted in the recovery of the diazepam tablets, and both men were charged.
'Untold harm'
Police Scotland's Det Sgt Frank McCann said the drugs would have caused "untold harm" to the communities they were set to be distributed in.
He said: "These sentences should send a very clear message that drug crime will not be tolerated and we will use all resources at our disposal to bring offenders to justice.
"Frank Haldane and David Paterson were identified as being involved in the drugs trade through vital information we received from the public, who have made it abundantly clear that they do not want drug dealers plaguing their streets.
"Police Scotland will always act on intelligence and pursue anyone found to be responsible for criminal activity."