Inspectors raise concerns about Ninewells Hospital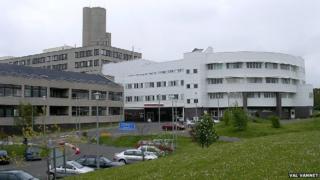 Health inspectors have raised concerns about Dundee's Ninewells Hospital.
The NHS Tayside facility has been set nine requirements to address following an unannounced Healthcare Environment Inspectorate visit in March.
They include improvements to the cleaning of equipment and departments, hand washing procedures and the storage of breast milk.
NHS Tayside said it had addressed the majority of the requirements and an action plan would address the rest.
The improvements must be completed within a month.
Inspectors praised infection prevention and control standards at the hospital.
The Healthcare Environment Inspectorate (HEI) team which visited Ninewells on Tuesday 11 and Wednesday 12 March carried out patient interviews and distributed questionnaires as part of their investigation.
Ward cleanliness
The team found contaminants including blood, dust and faeces during the inspection, while sharps bins were found to be externally contaminated with blood and in some cases overfilled, causing a hazard to staff.
They also found "significant levels" of dust on ledges in the neonatal department, which was not cleaned as regularly as required under national guidelines, and on two bed frames in the intensive care unit.
Inspectors also raised concerns about staff wearing scrubs outside of treatment areas.
HEI chief inspector Susan Brimelow said: "This inspection has identified several priority areas where NHS Tayside must make improvements within one month.
"These include staff adherence with dress code policies, the cleaning of patient equipment, breast milk storage arrangements and the cleaning frequency of the neonatal unit.
"However, staff demonstrated a good understanding of the process to follow when a patient with a known or suspected infection was on their ward and patients commented positively on the standard of cleanliness on their wards.
"This inspection resulted in nine requirements which NHS Tayside must address as a matter of priority. We will follow up these concerns at future inspections."
Action plan
The health board has agreed an action plan to meet the targets, with progress already made on several of the requirements.
NHS Tayside chief executive Lesley McLay said: "We have already addressed the majority of the requirements which have been identified by HEI.
"The remainder of the issues raised are being actively progressed through our robust action plan which clearly demonstrates our commitment to further improving our services.
"Clearly, some of the observations noted by the inspectors on the day are disappointing and therefore we are reinforcing policies with staff and providing additional training where necessary.
"We know it is essential that we keep striving to improve on what we do every day to ensure we get that care right for every patient every single time."