NHS admission over chronic pain treatment waiting times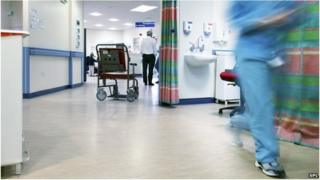 A patient has forced NHS Scotland to admit that waiting times for chronic pain treatment are even longer than previously reported.
A report released last week revealed that some patients were waiting up to two years to see a specialist.
After it emerged one patient waited two and a half years to see a psychologist, NHS Forth Valley said there had been an "administrative error" in the report.
The board is investigating the mistake and working to reduce waiting times.
The originally reported mean waiting time to see a psychologist through NHS Forth Valley, 36 weeks, was half that of the actual figure, 78 weeks.
The health board has insisted they sent the correct information to Healthcare Improvement Scotland, but the published error was only brought to light after a complaint from patient Kenny Boyle.
Mr Boyle injured his back playing sports 15 years ago while living in London, and said that when he moved back home to Alloa seven years ago he hoped to receive similar care in Scotland to that in the capital.
However, the 46-year-old found himself on a waiting list for several years, and was thus shocked to read that NHS Forth Valley had listed average waiting times in the Healthcare Improvement Scotland report.
Specialist treatment
"Pain management in Scotland is non-existent," he said.
"For the best part of three years, the only way I was dealing with my pain was through anger.
"I'd made requests to see a psychologist, and that took two and a half years of me making a pain in the backside of myself - I was just going up and down waiting lists.
"I was awaiting the report on chronic pain coming out, but within 20 minutes of reading it I was finding discrepancies with my actual experiences."
The Healthcare Improvement Scotland report initially cited NHS Forth Valley's mean waiting time for access to a psychologist as 36 weeks.
However, Mr Boyle had letters proving he had waited two and a half years to see a specialist - and the health board's mean waiting time in the report was subsequently more than doubled, to 78 weeks.
'No accountability'
Mr Boyle said: "If an untrained person like me can look at it for 20 minutes and rip holes right through it, the report isn't fit for purpose. It's on its third version already and it's a week old.
"Things like the Patient Rights (Scotland) Act and this report are just political window-dressing - there's no real accountability."
Chronic pain - defined as pain lasting more than 12 weeks, despite treatment - affects about 18% of the population, or 800,000 people in Scotland.
Mr Boyle, who has been unable to work due to his condition, wants patients to be able to seek treatment in neighbouring health boards if their local ones offer insufficient choices.
"Ultimately, I want the NHS to take patients more seriously, and offer more patient choice," he said.
"As it stands there's more chance of me getting a sex change on the NHS than getting treatment for my pain."
'Administrative error'
A spokeswoman for NHS Forth Valley said the board had submitted the correct information to Health Improvement Scotland, but neither body noticed when the incorrect figures were printed due to an "administrative error".
She said: "We are currently working with HIS to look into how this error happened and are also reviewing our own systems for checking and approving future reports.
"We recognise that some patients have experienced very long waits to see a psychologist and action is already being taken to improve performance.
"Additional temporary psychology staff have recently been employed to run additional clinics and priority is being given to patients who have been waiting the longest."
The spokeswoman added: "As a result, our waiting times have reduced significantly in the last six months and our current average wait is around 31 weeks. We have also recently advertised for additional permanent psychology support to help manage future demand."