Neil Wylie jailed for running down two women at Hogmanay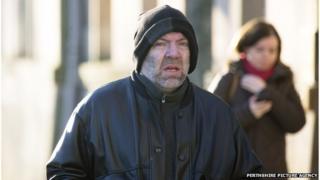 A man has been jailed for 22 months after he knocked down two women in a drunken hit and run on Hogmanay.
Delivery driver Neil Wylie was so drunk when he ran down Ailsa Howden and Necole Stewart that he could not remember being in the Perth city centre street where it happened.
The 52-year-old had been drinking all day before he was ejected from a city pub and attempted to drive his car.
He was banned from driving for four years in addition to his jail sentence.
Miss Howden, 19, and Miss Stewart, 20, had been out celebrating the new year when they were hit by Wylie's Vauxhall Corsa on the High Street.
As a result, Miss Howden spent the first 36 hours of 2014 in hospital, and Miss Stewart required 16 stitches.
Fiscal depute Chris Macintosh told the court: "This happened at 25 past midnight and the girls had been out socialising and were crossing the road.
"They became aware of a car travelling up Perth High Street towards them. It sped up with the engine revving and collided with them."
When Wylie was traced using CCTV footage, officers found damage to the headlight and bumper of the car.
Mr Macintosh continued: "He was interviewed and said he had been out for a few drinks. An incident in the pub caused him to become angry. He was quite drunk and picked up the car and drove it.
"He told the police he thought the collision had taken place in another part of town."
'Innocent victims'
Miss Howden, from Stanley, Perthshire, described how she was left with concussion and a suspected broken nose while her friend Miss Stewart suffered a gash to her leg.
The Robert Gordon University student said: "We tried to make the pavement. I was knocked across the bonnet on to the road and Necole was caught on the bonnet before coming off.
"The car didn't stop at all. It was horrible."
Solicitor Rosemary Scott, defending, said: "He feels a great deal of remorse. His position is that these girls were innocent victims of whatever he was cross about and it had nothing to do with them.
"He had been out drinking since the early afternoon."
Wylie admitted driving dangerously and while under the influence of alcohol, and knocking down and injuring both women.
He was sentenced to 22 months in prison, with a further 10 months of supervision upon his release, and was banned from driving for four years.